Creating and managing Segment Groups
In this guide, we'll explain how to set up and manage Segment Groups, along with how to segment your visitors based on 1st/3rd party data, on-site behavior, and/or survey data.
Creating a new Segment Group
Segments, and the Segment Groups that house them, can be created in one of two ways:
From the Segment Editor, accessible by clicking on Manage → Segmentation & questions in the navigation.
From within a CTA Funnel, either by asking a new question, or editing an existing question.
For the purposes of this guide, we'll just focus on the first method – within the Segment Editor. Check out our CTA Funnel documentation for help with creating and managing segments from within a CTA Funnel.
To create a new Segment Group, click the Add + button at the top of the list of Segment Groups.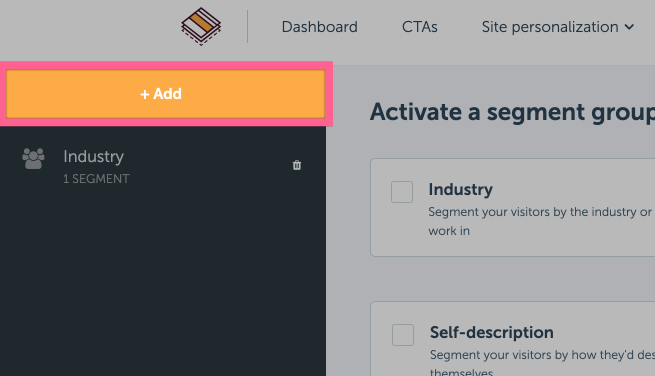 We have a number of templated options that you can use to get started. These will add a few standard segments and set a sensible name for your new Segment Group – but they're by no means required.
For now, select Create a custom segment group
Remember to publish your changes!
Any changes you make in RightMessage – including changes to how segmentation is defined – won't actually go live on your website until you click "Publish to your website".
For more information on how this all works, check out our section on publishing.
Configuring your new Segment Group
The first step is to come up with a name for your Segment Group.
What you name it is for internal purposes only. So we recommend something short and concise – like "Job Role", "Industry", or "Affiliate Referral".
Enter the name into the Segment visitors by their… text input field.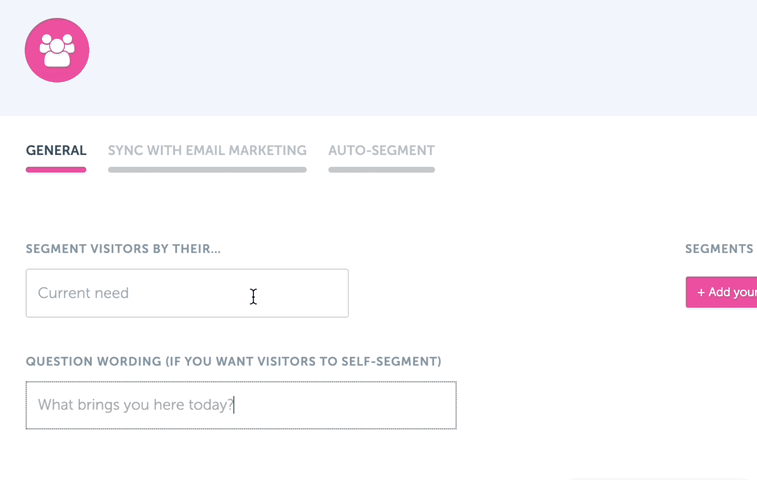 Some Segment Groups might be public facing, where the intent is to allow visitors to self-segment into a particular segment (if necessary.) If this is the case, enter how you'd like to ask someone to self-segment in the Question Wording text input field.
Finally, it's time to start adding some actual segments to your Segment Group. What you name these questions are what will appear if you decide to let your visitors self-select into this Segment Group, so be sure to keep that in mind.

'Internal' vs 'External' Segment Groups
Let's talk strategy…
Consider two different Segment Groups: Industry and Affiliate Referral.
'External' Segment Group: Industry You might segment people into Industry automatically… maybe if they came to your website via an ad targeting people in that industry, or clicked over from a blog dedicated to that industry.
But you probably want to allow for asking someone point-blank what industry they work in, especially if they aren't coming from a targeted ad or niche blog.
In this case, you absolutely want to make sure you set the "Question Wording" field. Probably to something like: "What industry do you work in?"
The segments you create in this group will want human readable names, like "Finance" or, optionally, "I work in finance". These will appear as the options that someone is able to select into from a CTA Funnel.
'Internal' Segment Group: Affiliate Referral Let's switch gears and talk about a Segment Group that's dedicated to personalizing your website based on which affiliate sent you traffic.
There's probably zero reason you'd ever want a visitor to self-select what affiliate sent them to you. That's entirely automated, and based on how they arrived at your website.
This would be an example of an 'internal' RightMessage segment. It doesn't need anything entered into the "Question Wording" field, and what you name your actual segments doesn't matter (outside of making sense to you.)
Deleting a Segment Group
To delete a Segment Group, simply click the trash can icon to the right of the Segment Group's name.