Step 2: Integrate with your email marketing database
RightMessage, once integrated with a supported email marketing system (what we call an ESP) or CRM, creates a bi-directional relationship between your website and your ESP/CRM.
When a lead is generated using one of our widgets, we create a contact/subscriber record in your ESP/CRM.
When a visitor is segmented via one of our survey widgets or based on their on-site behavior, we update their contact record in your ESP/CRM.
And when a visitor is on your website, we pull down the information you have about them – like tags and custom fields – from your ESP/CRM and allow you to personalize their experience on your website using that data.
Generally speaking, we encourage you to use your ESP/CRM as your single source of truth. Purchase activity, survey questions answered by RightMessage, webinar registrations, and so on should all be stored in your ESP/CRM as segments.
This way, RightMessage – because of our two-way integration with your ESP/CRM – can indirectly access segmentation data like whether a visitor is already a customer, or if they've already registered for a webinar, and whatever else you know about them.
Setting up an integration
Click the gear icon to the left of the "Publish to site" button and select Integrations.
Next, click on the integration you want to set up.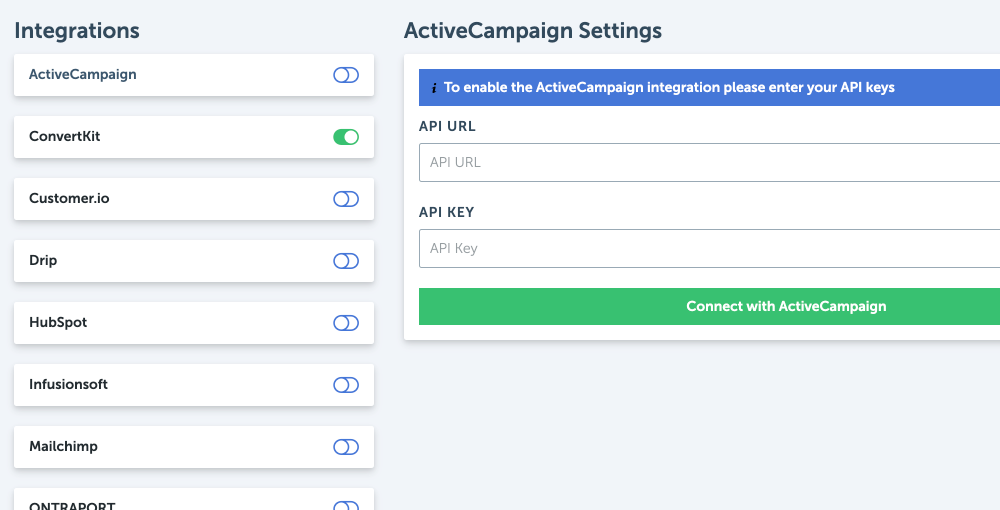 Below are integration-specific guides for every ESP/CRM we integrate with:
That's it! Once you've added the RightMessage tracking script to your website,