Using RightAsk segments in personalization campaigns
You can use the answers visitor provide in your RightAsk questions to set up a custom RightBar or personalizations on your website.
Create a new segment
In your RightMessage dashboard for the website you are personalizing, click 'Segments' in the admin bar.
In the left sidebar, click the '+' icon to create a new segment group.
Select the type of segment your new segment group will be used for.
For the segment type selected, complete the additional fields required (you will be able to edit this information once the segment group has been created).
Click the yellow 'Create Segment Group' button once the fields have been completed.
The new segment group will be saved and automatically appear in the left sidebar.
Add a segment group name
Once the segment group has been created, you can edit the segment group name.
To change the name of the segment group, click on the segment group name in the main segment editing screen.
Edit the existing name or add a new name in the field provided.
Click the yellow 'save' button to save the new name.
Add segments to the segment group
Within your segment groups you can add, edit and delete individual segments that belong to that group.
Adding segments within a segment group lets you create numerous types of conditions for the different visitors, subscribers, members or customers on your site to meet, in order to see any personalizations you add to a website.
Click the '+ Add a new segment' button on the right side of the main segment creation area to add a new segment to the segment group selected.
A new segment box will appear in the main segment editing area.
Add a name for the segment in the field provided and click the yellow 'save' button.
Use the drop down in the segment box to add one or more conditions for the new segment. Fill out the required field(s) for the condition chosen.
To segment based on a RightAsk answer, select the RightAsk segment in the 'Segment' section of the drop down.
Use the drop down to select to include or don't include specific segments.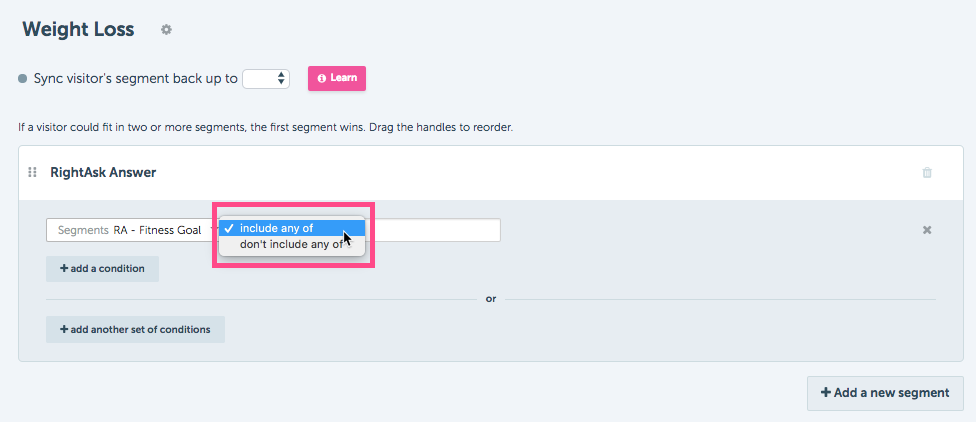 Click inside the value field. A list of the segments in that segment group will display. Alternatively, start typing in the field to see an 'autosuggest' of matching tags. Select one or more segments for the value.
Publish the new segment
To make sure your new segment is saved, click the 'Publish' button in the top right corner of the screen.