Create your first RightMessage campaign
In order to use RightMessage to personalize a website for different segment groups, you will need to set up a 'campaign'.
Creating a new campaign
In your RightMessage dashboard you can create a new campaign in two ways.
If you have not created a campaign before, click the yellow 'Create A Campaign' button.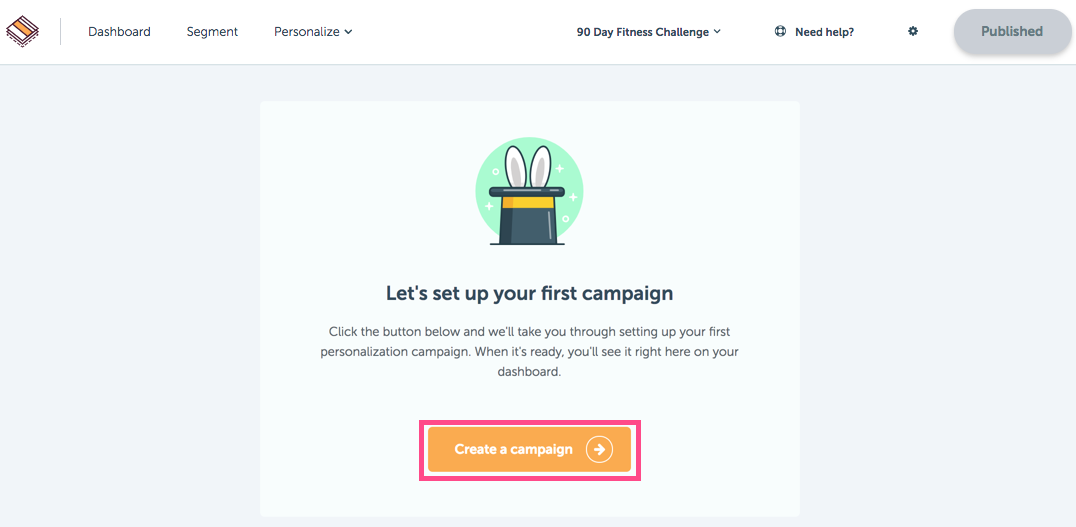 If you are creating an additional campaign, click the '+ start a new campaign' button at the top left of the screen.
For your new campaign, you can either select from one of the growing collection of 'recipes' or create your own custom campaign.
Tip: Click the arrow beside 'Start a new campaign' if you need to exit the campaign creation screen.
A basic campaign to personalize based on subscriber/anonymous segment
If you have created the recommended segment in the previous step, you can start personalizing your website by adjusting any CTA buttons to show different text to visitors already subscribed.
Click the 'Display CTAs based on who someone is and where they are in your funnel' recipe.
In the recipe fields provided, you can either set up a brand new segment group, or click the grey 'Already set up a segment group of lifecycle stages' button.
Click to select the Segment Group already created

Complete options to set up a new segment group

Click the 'Set Up Campaign' button to create the campaign
Note: For a custom campaign, add a name for the campaign, and either select an existing segment group or create a new one.


RightMessage will automatically create the new campaign and will redirect you to the personalization area.
You can now start personalizing your website for the different segments in your segment group.

Publish the new campaign.
To make sure your new campaign is saved, click the 'Publish' button in the top right corner of the screen.

Learn more
Other type of campaigns you can create:
Start personalizing your website:
Learn more about campaigns: